Thomas Elliott, Head of Museum Learning and Interpretation and Jennifer Thomson, Learning Officer write about the different type of programmes we offer to schools and kids at Surgeons' Hall Museums.
A museum about surgery which displays thousands of specimens might not sound like the most child friendly experience but here at Surgeons' Hall Museums we offer an exciting schools programme, aimed at upper primary and secondary schools. We always encourage teachers to come along for a free pre-visit, particularly if they are not familiar with the museum and may be a little concerned about how their kids may react when faced with displays of human remains. This gives them a chance to see the collection for themselves (whilst reassuring them), orientate themselves with the layout and chat about what sort of activities we can do on the day of the visit.
One of our most popular workshops is Our Amazing Body, which ties in with what children in upper primary school learn in class about some of the major organs. This session is lots of fun with the children participating in hands on activities to find out how our lungs and heart work. Things do get a little messy as we explore the digestive system and discover how our body processes the food and drink we consume by making our own 'poo', something that is endlessly fascinating for kids! There is always a chance to explore the rest of the museum as well and though some children are a bit wary about the specimens in jars (the most common question by far being 'Are these real?'), they are very soon enthusiastically telling their classmates what they have spotted in the display cases and vigorously counting how many eyeballs they can spot!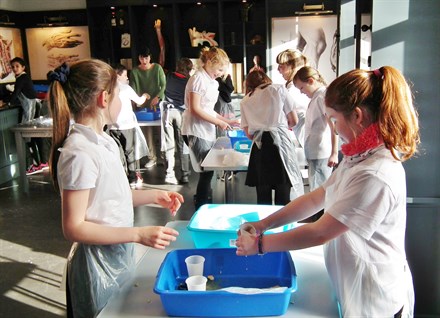 For older classes, our Surgical Skills workshop gives the children a chance to try their hand at skills real surgeons have to learn as part of their training. This includes 'scrubbing up' to get ready for theatre and practicing stitching using a suture, something that requires a steady hand and a lot of patience!  The History of Medicine workshop highlights some of the surgical breakthroughs such as anaesthetic that we take for granted today but weren't discovered until the middle of the 19th century. Our object handling kit containing some real surgical instruments keeps pupils guessing as to what they were used for by the early surgeons. It's always fun to see the reaction when they realise exactly how a tooth key was used to pull out rotten teeth, usually accompanied by cries of 'Eeeew, that's gross!'
Outside of our schools programme we have been part of the Edinburgh Science Festival for the past couple of years, with very popular sessions based on the basic surgical skills course the College runs for real trainee surgeons. During the holiday periods we also offer workshops aimed at youngsters with their families, whether it be forensic techniques, or making snot to learn about how important mucous is preventing bacteria reaching the lungs to dissecting a real heart,… yes really!
For young visitors coming in for a general visit with their families we have produced a bespoke children's activity book that explores some of the main stories and themes of the museum in a light-hearted and accessible way. These are given out free of charge for children to complete as they make their way round the galleries and take home with them as a souvenir.
If you would like more information on our Learning programme at Surgeons' Hall Museums, please check our website for details.